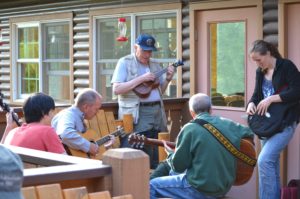 Join us this summer for a week of bluegrass, folk, blues, swing, jazz, Irish, flatpicked and fingerstyle guitar, mandolin, banjo, fiddle, bass, singing, learning and fun!  Break out of your routine and be inspired by a variety of styles, first-rate musicians, and the incredible experience of being immersed in acoustic music. Our instructors are some of the top players in the nation, but they were chosen because they're known by peers and students as great instructors for all levels. Class sizes are small, with an average 7:1 student-teacher ratio, so you'll be sure to get plenty of individual attention.
Classes, concerts, individualized learning and jamming!  From over 25 hands-on classes offered over a broad range of levels, instruments, styles and subjects, you select those that appeal to you. There will also be concerts by instructors and campers, opportunities for individualized learning,  and jamming! And, if you're new to jamming, we'll have courses specifically designed to get you started.
All levels: whether you're just starting out or an advanced player, there are over 25 classes to inspire, inform and challenge you. Each instructor teaches a variety of levels and brings a wealth of fundamentals, technique and style to each class (What's your playing level).
All ages are welcome however we kindly ask that minors (campers under 18) be accompanied by an adult.
Companions: you're welcome to attend the camp as a companion of a camper, at a reduced rate.  While you won't attend classes, instructor one-on-ones, jam classes or seminars, you're welcome to attend all meals, lodging concerts, dance & evening jamnation. The camp itself is a beautiful retreat, and there are also many great things to see and do close by; see our Other Activities page.
Charlie Hall Scholarship: As the founder of Colorado Roots Music Camp, Charlie Hall is a trail blazer in bringing quality music instruction to the Pikes Peak region. In pursuit of this, he also gathered informal scholarship money to support younger students who were unable to financially afford attendance at Roots. In recognition of this forward thinking approach to growing young musicians, the Charlie Hall Scholarship Fund was officially launched at the end of the June 2018 camp.  Rocky Mountain Mennonite Camp (RMMC), which has been home to Roots since its beginning in 2006, has taken the opportunity to continue Charlie's outreach by formalizing the scholarship. As a 501(c)3,  RMMC is able to offer a charitable receipt for contributions to the scholarship fund. GO DONORS!
How to give: Donors can support the next generation of musicians by writing a check to Roots Music Camp earmarked "Charlie Hall Scholarship Fund" and sending to: Roots Music Camp, 709 County Rd 62, Divide CO, 80814. Donations accepted by credit card as well by calling the camp office (719-687-9506).
Who my apply: College age and younger (age 25), preference to first time campers.
How to apply: Contact the Colorado Roots Camp Office by email at (info@coloradorootsmusic.com) for application details.
Scholarship amount: Full Registration for Chalet, Rustic Cabin or Campground accommodations. Commuters too!
Number of scholarships: As funds allow for student interest, our goal is for 1-2 scholarships per camp session. Unfortunately, if there are no donors, there is no scholarship. Again, GO DONORS!
Awarded Scholarships: Scholarship applications will be reviewed and awarded by the Colorado Roots Music Camp Leadership Team.
Where you'll be: You'll be at the Rocky Mountain Mennonite Camp, high in the mountains near Divide, Colorado, surrounded by spruce, pine and aspen forest, beautiful rock formations, and premier hiking trails. The header image of this web site is the view above where you'll be staying with the photo taken from Monkey Rock (a short 10-15 min. hike from DH/Lodge).
T-Shirt: Campers and companions will receive a free T-Shirt that will be the envy of your friends (and better yet, your enemies).
If you're new, if you're old, if you need challenge, if you need something new, if you're on a plateau and need inspiration, or if you just want to peg your fun meter, the Colorado Roots Music Camp is for you.